New Iveco Daily is "Van of the Year 2015"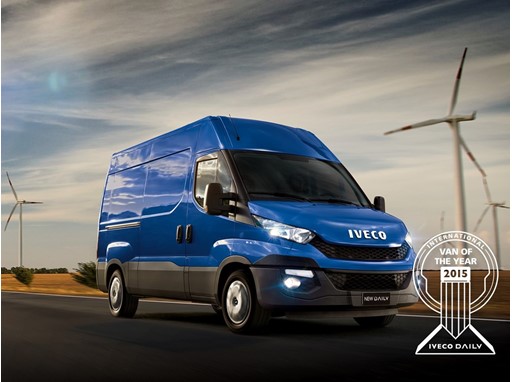 The new light commercial vehicle from CNH Industrial brand Iveco has been elected as the best by a jury composed of leading trade media experts.
The new Daily, the third generation of Iveco's light commercial vehicle, has been named the "International Van of the Year 2015". The annual award is organized by a jury panel of 23 leading journalists from major international commercial vehicle publications. The winner is the van that, according to the Jury, "has made the greatest contribution to the standards of efficiency and the sustainability of transport of goods by road with respect to environment and safety of people".
The prestigious award was presented during the 65th edition of the Hanover International Motor Show, the largest commercial and industrial vehicle show in Europe.
In the most competitive year ever since the awards programme was established in 1991, the Iveco New Daily won by a margin of 17 points over the shortlisted finalists from Fiat, Ford, Mercedes-Benz and Renault/Opel. In voting, New Daily was the first choice of the 23 jury members.
Receiving the award from International Van of the Year Chairman, Jarlath Sweeney, Pierre Lahutte, Iveco Brand President, said: "We are delighted that our New Daily has been awarded the prestigious Van of the Year accolade. The New Daily is a major step forward in improving Total Cost of Ownership, Comfort, Driveability, Productivity, and Sustainability. We would like to dedicate this award to our customers who every day count on this reliable and dependable working companion".
Hanover, 24 September, 2014
CONTACTS
Laura Overall

Senior Vice President of Communications

United Kingdom

mediarelations@cnhind.com

Alessia Domanico

Corporate Communications AMEA

Italy

alessia.domanico@cnhind.com

+39 011 007 4002

+39 331 694 6984

Sally Nicolls

Global Communications

United Kingdom

+44 (0)207 925 1964